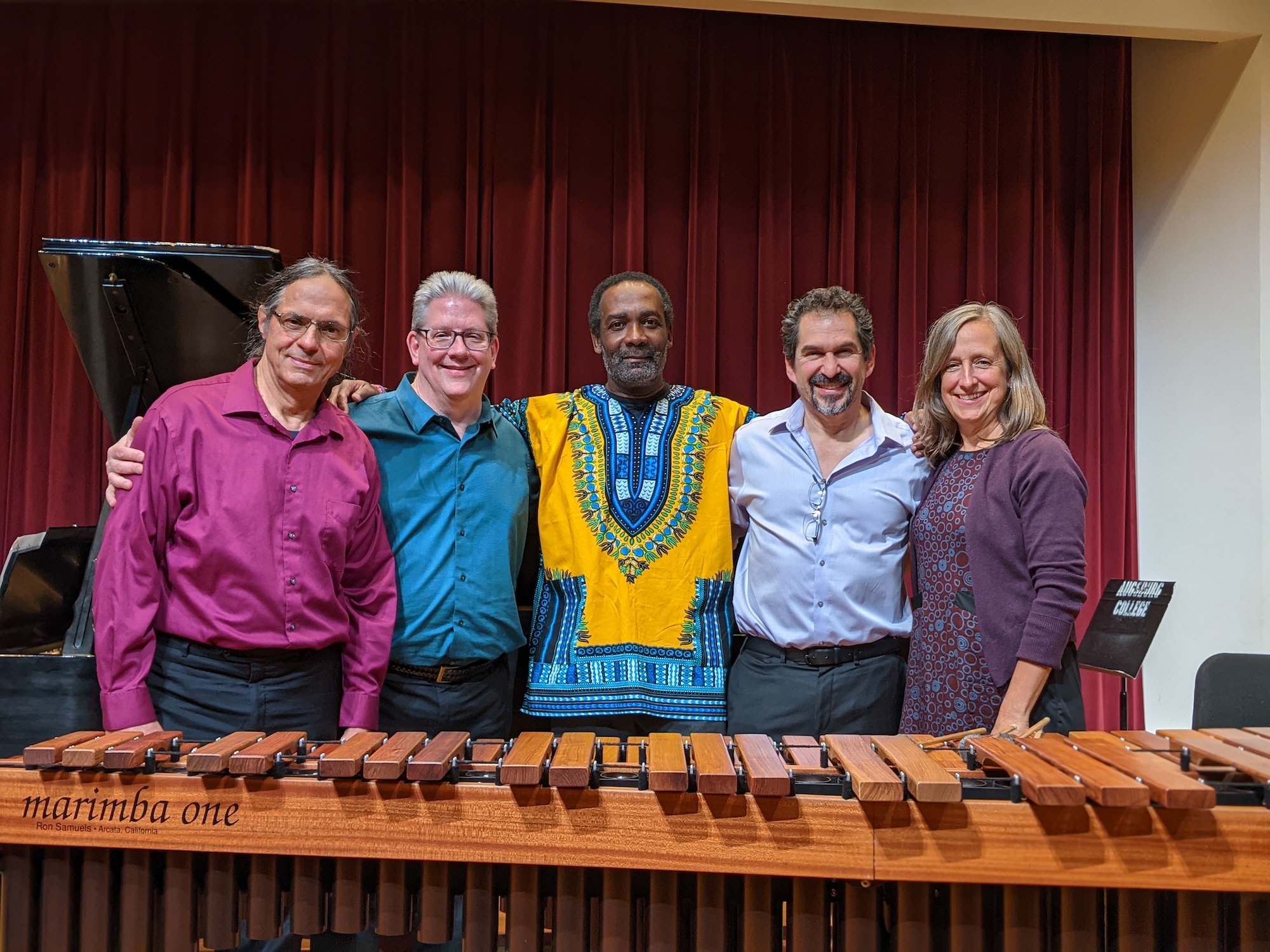 Balkanicus Ensemble after the 18th Balkanicus fall concert Sounds from Haiti and Bulgaria,together with the Haitian violinist and composer Jean R. Perrault . From left to right: Nickolai Kolarov, cello; Patrick O'Keefe, clarinet; Jean R. Perrault; Fernando Meza, percussion; Jill Dawe piano
BIOGRAPHIES OF ENSEMBLE PERFORMERS:
- Pianist Jill Dawe plays a wide range of chamber music, solo, and concerto repertoire and has a special affinity for new music and interdisciplinary collaboration. Recent projects include readings of new operas with Nautilus Music-Theater, music directing Augsburg's production of "Into the Woods", a video recording with Zeitgeist New Music Ensemble of a new work by Nasim Khorassani, and a documentary video for Imagining America. Dr. Dawe is a graduate of Memorial University of Newfoundland and Eastman School of Music, Rochester, New York. She is an associate professor of music at Augsburg University and has been a performer with Balkanicus Ensemble since 2010.
- Bulgarian cellist Nickolai Kolarov is the founder of the Balkanicus series in 2003 in the Twin Cities, MN. The series has featured music written especially for him. He is the President of the Balkanicus Institute for Balkan Art, Culture and History, a non-for-profit organization that promote the cultures from the Balkans. Kolarov performs actively both classical and contemporary repertoire throughout the country and appears as a soloist with orchestras from the Midwest. The Bulgarian National Radio and TV, as well as various radio and TV stations in Minnesota and Kansas featured some of his performances. Kolarov has taught cello at the University of St. Thomas and has delivered lectures and master classes in several universities and colleges. In 2011 he was invited for a performance-lecture in the Juilliard School. Kolarov holds DMA from the University of Minnesota and he studied with Igor Gavrish from the Moscow Conservatory of Music.
- Clarinetist Patrick O'Keefe has been performing the clarinet in Balkanicus ensemble since the first Balkanicus concert in 2003. Pat is active in a variety of musical genres. He has performed as a soloist with symphony orchestras, wailed away for belly dancers, and rocked samba in the streets. He is the woodwind player for the ensemble Zeitgeist, and also performs with Batucada do Norte, Choro Borealis, No Territories, Balkanicus, and The Maithree Ensemble. O'Keefe holds a BM from Indiana University, an MM from New England Conservatory, and a DMA from the University of California, San Diego. In 2015 he was awarded a Performing Musician Fellowship from the McKnight Foundation. He teaches at the University of Wisconsin, River Falls.
- Native from Costa Rica Fernando Meza is Professor of Music at the University of Minnesota School of Music, where he has been Director of Percussion Studies since 1993. Over this time period, he has built and established in Minneapolis what is considered by many to be one of the most comprehensive centers of percussion studies in the United States. Meza has also performed as soloist, chamber, or orchestral musician in such places as Alice Tully Hall in Lincoln Center, Carnegie Hall, the Philharmonie in Berlin, and the Musikverein in Vienna among others, and is in demand locally as a performer with the Minnesota Orchestra, Saint Paul Chamber Orchestra, Chamber Music Society of Minnesota, Bakken Trio and others. Meza has been performing on the Balkanicus concerts since 2010.
Program of the 18th Balkanicus fall concert October 2022:



Notes about the composers and pieces from the 18th Balkanicus fall concert: