TWELFTH ANNUAL CONCERT OF BALKAN CONTEMPORARY MUSIC: BALKANICUS
CONCERTS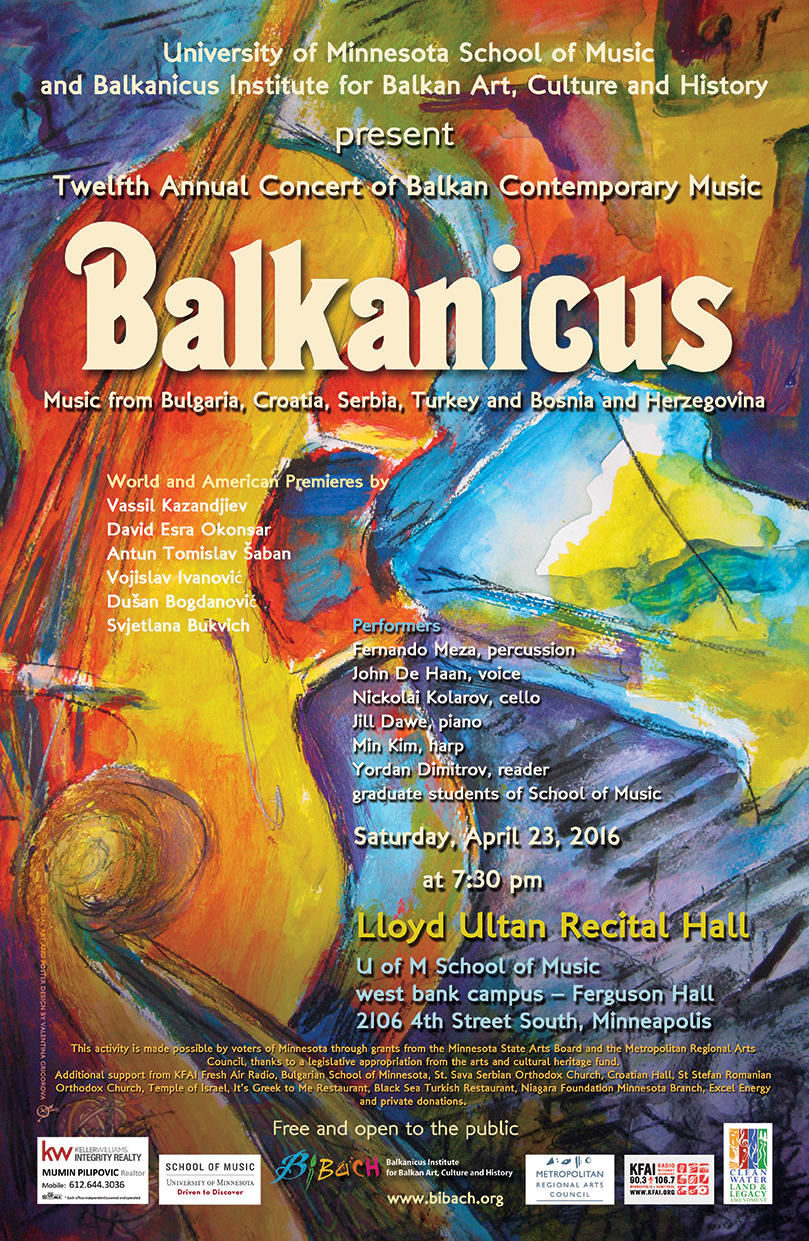 Date:
Saturday, April 23, 2016
Venue: Lloyd Ultan Recital Hall U of M School of Music – Ferguson Hall 2106 4th Street South, Minneapolis | City: Minneapolis, United States
Press Release
What: BALKANICUS 2016 - 12th Annual Concert of Balkan Contemporary Music
When: Saturday, April 23, 2016 at 7:30 pm
Where: Lloyd Ultan Recital Hall in Ferguson Hall
University of Minnesota School of Music
Admission: FREE and Open to the Public
The University of Minnesota School of Music
and Balkanicus Institute for Balkan Art, Culture and History (BIBACH)
Present
BALKANICUS 2016
The Twelfth Annual Concert of Balkan Contemporary Music
Balkanicus 2016 will feature a program of American and World premieres from Bulgaria, Bosnia and Herzegovina, Croatia, Serbia, and Turkey. Two chamber music pieces by the pillar of the Bulgarian avant garde Vassil Kazandjiev—one a World premiere—are included. The other World premiere is a work by the Turkish composer David Esra Okonsar. For the first time at Balkanicus music by Croatian Antun Tomislav Šaban, Serbian Dušan Bogdanović and from Bosnia and Herzegovina—Vojislav Ivanović and Svjetlana Bukvich.
The 2016 concert Features leading musicians from the Twin Cities area who collaborated many times on Balkanicus concerts—faculty, guest performers and graduate students: percussionist Fernando Meza, tenor John De Haan, cellist Nickolai Kolarov, pianist Jill Dawe, and harpist Min Kim, Yordan Dimitrov is the reader.
Balkanicus chamber concert series was created in 2003 by Bulgarian cellist Nickolai Kolarov to showcase music from the Balkans that is still unknown to the local public. The concerts present American and World premieres of works by composers of different generations and styles. Several composers have written and dedicated pieces for Balkanicus. Music inspired by folk, with Western influences, and the most recent developments of the 21st century cross paths on our stage—and all of these pieces convey 'Spiritus Balkanicus!'
For more information about the current and previous Balkanicus concerts:
This email address is being protected from spambots. You need JavaScript enabled to view it.
This activity is made possible by voters of Minnesota through grants from the Minnesota State Arts Board and the Metropolitan Regional Arts Council, thanks to a legislative appropriation from the arts and cultural heritage fund.
Additional support from KFAI Fresh Air Radio, Bulgarian School of Minnesota,St. Sava Serbian Orthodox Church, Croatian Hall, St Stefan Romanian Orthodox Church, Temple of Israel, It's Greek to Me Restaurant, Black Sea Turkish Restaurant, Niagara Foundation Minnesota Branch, Excel Energy, Mumin Pilipovic, realtor at KellerWilliams Integrity Realty and private donations.
Email
This email address is being protected from spambots. You need JavaScript enabled to view it.
Address
Ferguson Hall, 2106 S 4th St, Minneapolis
MN 55454, United States