Concert of the Chamber Music of Vassil Kazandjiev
CONCERTS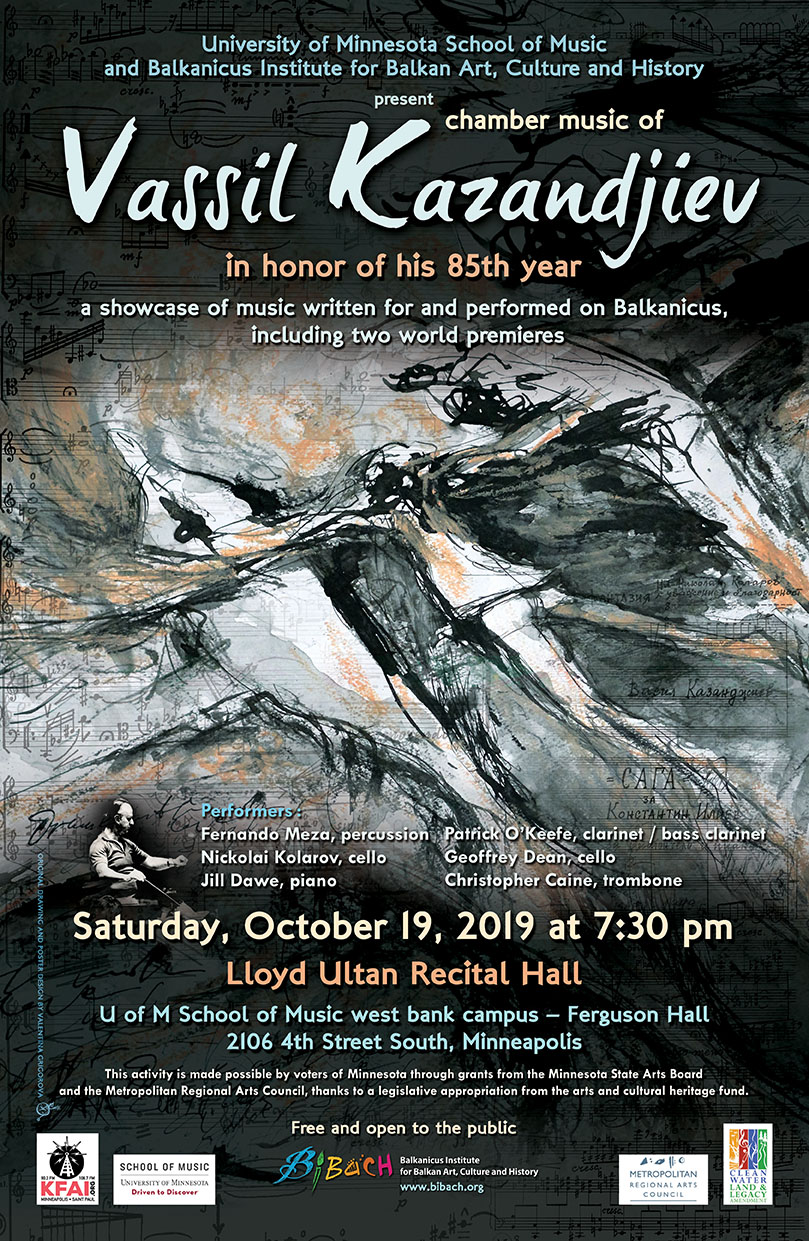 Date:
Saturday, October 19, 2019
07:30
Venue: Lloyd Ultan Recital Hall
Saturday, October 19, 2019 at 7:30 pm
Lloyd Ultan Recital Hall (University of Minnesota)
Free and open to the public
Join us to celebrate the 85th Anniversary of Bulgarian composer Vassil Kazandjiev, presented by the Balkanicus Institute for Balkan Art, Culture and History (BIBACH) and the U of M School of Music! Vassil Kazandjiev is among the pioneers of the new modern European tendencies in Bulgarian music in the 60's. His music diverged from the reigning style of Socialist realism, and he was accused of promoting Western formalism which brought him trouble from the music powerhouses of his day.
The showcase features chamber music inspired by traditional art, some of which was previously presented in the Balkanicus concert series, and two world premieres which Kazandjiev wrote especially for the occasion. Improvisational and irregular, artsy and avant-garde, timbristic and coloristic!
After the concert meet performers and fellow music-lovers over a tasty favorite Bulgarian reception!
All are welcome, especially if you have never experienced this music before!
Don't miss this opportunity to delight in the music of Kazandjiev's master pieces!
Performers:
Fernando Meza, percussion Patrick O'Keefe, clarinet /bass clarinet
Nickolai Kolarov, cello Geoffrey Dean, cello
Jill Dawe, piano Christopher Caine, trombone
This activity is made possible by voters of Minnesota through grants from the Minnesota State Arts Board and the Metropolitan Regional Arts Council, thanks to a legislative appropriation from the arts and cultural heritage fund.
Address
2106 S 4th St, Minneapolis, MN 55455

All Dates
Saturday, October 19, 2019

07:30