Summer Umbrella Concert
CONCERTS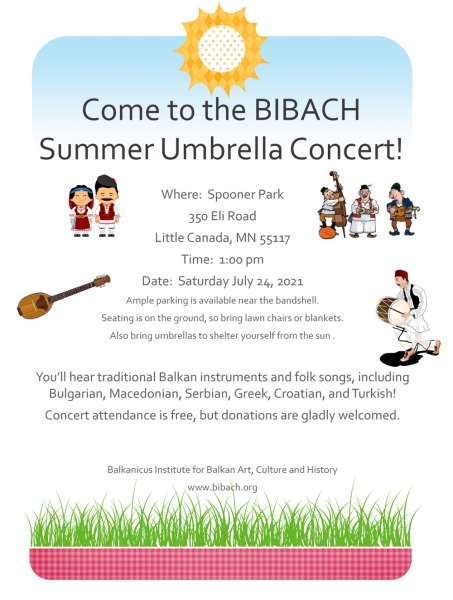 Date:
Saturday, July 24, 2021
13:00
City: Little Canada, USA
The Balkanicus Institute for Balkan Art, Culture and History (www.bibach.org) is organizing an outdoor "Umbrella Concert" at the bandshell of the Spooner Park in Little Canada, in order to provide a financial umbrella for local musicians affected by the pandemic.
Come enjoy a variety of Balkan folk music.
You'll hear traditional Balkan instruments and folk songs, including Bulgarian, Macedonian, Serbian, Greek, Croatian, and Turkish!
Concert attendance is free, but donations are gladly welcomed.
Seating is on the ground – bring chairs, blankets, umbrellas.
Ample parking is available next to the bandshell.
Find us on Saturday, July 24th at 1 pm at Spooner Park: 350 Eli Rd, Little Canada, MN 55117
Address
350 Eli Rd, Little Canada
USA

All Dates
Saturday, July 24, 2021

13:00