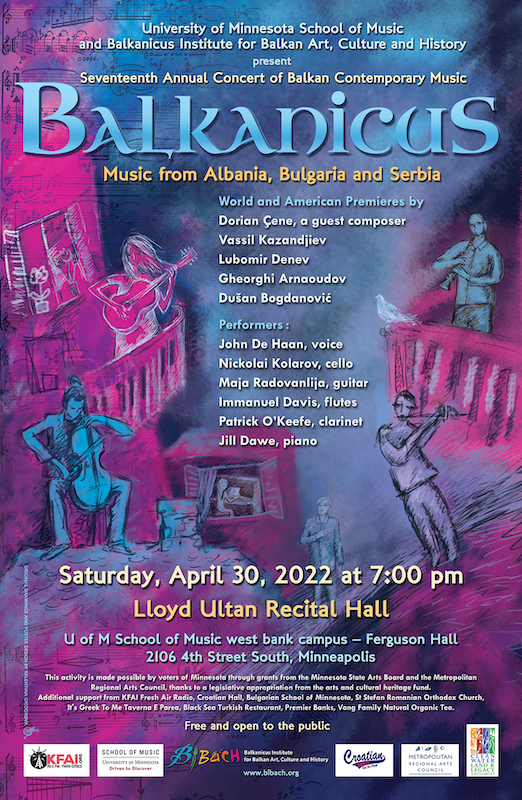 Date:
Saturday, April 30, 2022
19:00
City: Minneapolis, USA
What: Balkanicus: 17th Annual Concert of Balkan Contemporary Music

When: Saturday, April 30th at 7:00 PM

Where: Lloyd Ultan Recital Hall (U of M West Bank Campus)
After three years, the Balkanicus concert series is back! We look forward to surprising our audiences with rambunctious rhythms and unpredictable phrasing on Saturday, April 30th at 7 PM at Lloyd Ultan Recital Hall of the University of Minnesota School of Music.
Free and open to the public: all are welcome, especially if you have never experienced this music before! Emotional and upbeat, artsy and avant-garde, jazzy and irregular, and at the end of it – meet performers and fellow music-lovers over a tasty Balkan reception! We'll be joined by our featured composer, Dorian Çene. A distinguished composer and scholar of Albanian music, Çene teaches Counterpoint and Systematic Musicology at the University of the Arts-Tiranë. Long-time attendees of the Balkanicus concert series will recognize that we've previously shared Çene's work. This year, the Balkanicus Ensemble will perform world premieres of two pieces that he wrote specifically for us: 'Points of View' for cello, clarinet, and piano; and 'Ad libitum' based on an Albanian folk tune for solo cello. In addition to these two world premieres by Çene, our team of prominent local musicians will present world and American premieres from Bulgaria and Serbia. Come feast your ears – be the first to hear cutting-edge works of composers Vassil Kazandjiev, Gheorghi Arnaoudov, Lubomir Denev, and Dušan Bogdanović. Ensemble: Nickolai Kolarov, cello; Pat O'Keefe, clarinet; Jill Dawe, piano; John de Haan, voice; Immanuel Davis, flute; Maja Radovanlija, guitar.
Performers:
John De Haan, voice
Nickolai Kolarov, cello
Maja Radovanlija, guitar
Immanuel Davis, flutes
Patrick O'Keefe, clarinet
Jill Dawe, piano



World and American Premieres by:
Dorian Çene, a guest composer
Vassil Kazandjiev
Lubomir Denev
Gheorghi Arnaoudov
Dušan Bogdanović


Nickolai Kolarov met His Excellency Andrei Muraru, Ambassador of Romania to the United States, who visited the Twin Cities, Minnesota a couple of weeks before the 17th Balkanicus concert, April 2022. Nickolai informed him about the mission and the activities of Balkanicus.
This activity is made possible by voters of Minnesota through grants from the Minnesota State Arts Board and the Metropolitan Regional Arts Council, thanks to a legislative appropriation from the arts and cultural heritage fund.
Additional support from KFAI Fresh Air Radio, Croatian Hall, Bulgarian School of Minnesota, St Stefan Romanian Orthodox Church, It's Greek to Me Taverna E Parea, Black Sea Turkish Restaurant,
Premier Banks, Vang Family Natural Organic Tea.
Address
Lloyd Ultan Recital Hall, 2106 S 4th St
Minneapolis, USA

All Dates
Saturday, April 30, 2022

19:00