Dance the Balkan Way
CONCERTS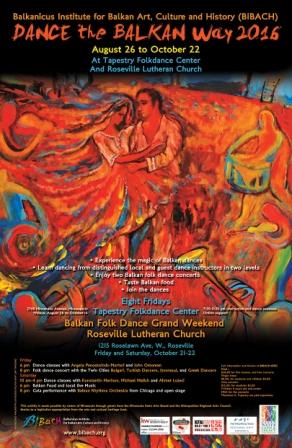 Date:
2016-10-21
-
2016-10-22
Venue: Roseville Lutheran Church | City: Roseville, United States
Dance the Balkan Way
Dance the Balkan Way invites you to learn Bulgarian, Greek, Romanian, Serbian and Turkish dances. We have invited some of the best local and guest dance instructors to work with beginner and advanced dancers for two months.
Photos from Dance the Balkan Way
FIRST PART (Starting August 22nd)
The online learning community of both the beginner and advanced participants will research the cultural and historic backgrounds with the support of their dance teachers.
Dancers will learn or refresh the basic steps and have the chance to practice them in local dance groups and at the Tapestry Folkdance Center.
Students will get their questions answered by the five instructors online.
SECOND PART, in the Roseville Lutheran Church, (October 21-22, Friday and Saturday)
Ten classes in two levels by the five distinguished teachers
Each participant will choose to attend up to five classes, those who are advanced learners in one type of dance would learn more complex steps and can join other classes as beginners
Each participant will deepen their knowledge and skills
Concert by the local Romanian, Bulgarian, Greek and Turkish folk dance groups on October 21
Second night open stage dance party and Gala concert of the guest musicians and dancers
SCHEDULE
8/26/2016 to 10/14/2016 – There is a possibility for some Friday sessions at the Tapestry Center, based on the schedule of the Tapestry Center.
Each Friday, 7:30-11:30 pm—There will be some Balkan dances taught on each of the Fridays, but here are the specific matches:
Aug 26 Dan – Bulgaria and Romania
Sept 2 Caren – Turkey and Greece
Sept 9 Caren
Sept 16 Caren
Sept 23 Dan – Bulgaria and Romania
Sept 30 Fall Workshop – Serbia
Oct 7 Workshop Reviews – Serbia
Oct 14 Workshop Reviews – Serbia

10/21/2016, Friday, Roseville
6:00-6:55 pm DC - Ga, Rb
7:00-7:55 pm DC - Gb, Ra
7:55- 8:15 pm Break
8:15-10:30 pm Community folk dance concert with Bulgari, Turkish Dancers, Izvorasul, Greek Dancers of Minnesota
10-22-16, Saturday, Roseville
10:00 -11:15 am DC - Bb, Ta
11:40-12:55 pm DC - Ba, Sb
12:55 -2:45 pm Lunch time
2:45-4:00 pm DC - Sa, Tb
4:00-6:00 pm Quiet time required for Church service
6:00-8:00 pm Balkan food and local live music
8:00-10:00 pm Gala performance with Balkan Rythms Orchestra from Chicago and open stage.
DC – Dance Class
a advanced
b beginners
B Bulgarian with Konstantin Marinov
G Greek with Angela Panoskaltsis-Mortari
R Romanian with John Omorean
S Serbian with Michael Malich
T Turkish with Ahmet Luleci
Cost

$30.00 for five classes and two concerts, includes communications with the instructors.

Single class: $8.00, for students and children $5.00

Friday's concert: $8.00, for students $5.00
Gala concert: $12.00, for students $5.00

Children 8 years old and under – FREE for the concerts

*The practices in Tapestry will be paid separately.
*Small price for food
Passes and tickets will be available by sending a registration form from this event page (please answer all questions) and a check to BIBACH (2133 Pascal st. # 11, Roseville, MN 55113) and at the door at the Roseville Lutheran Church.
To volunteer send an email to: This email address is being protected from spambots. You need JavaScript enabled to view it.
Email
This email address is being protected from spambots. You need JavaScript enabled to view it.
Address
1215 Roselawn Ave W, Roseville
MN 55113, United States

All Dates
From

2016-10-21

to

2016-10-22